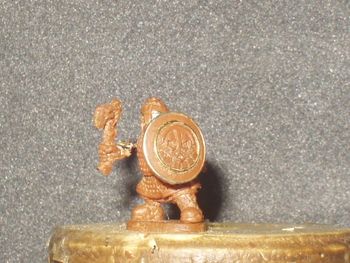 Hello you all ! Just a small post to explain a few things. Due to its very small size and very tight budget, Khadrin's Miniatures can't afford to follow the BLACK FRIDAY and other sales trend. That would just kill me if I did. I am reinvesting every single cent back in new sculpts and molds to beef up my range. So please bear with me and don't be too disappointed. I am not just a greedy old man. Hopefully I will be able to make nice offers in the future ! Soon you will see in Khadrin's Miniature range 3 regiments of dwarven troops, clad in chainmail with different helmets and shields, these sturdy warriors will wield hammers, axes and spears ! All sculpted by the talented Shumin !
A new pre-ordering campaign for Splintered Light Miniatures will start tomorrow Saturday 24th of November until Sunday 02 of December Midnight !
Bonjour à tous ! Juste quelques mots pour expliquer quelque chose. Du à sa trés petite taille et à son budget trés serré Khadrin's Miniatures n'est pas en mesure de faire des offres du style BLACK FRIDAY et autres soldes. Celà me tuerai si je le faisais. Je réinvestis chaque centime dans de nouvelles sculptures et de nouveaux moules pour augmenter ma gamme.Ne soyez pas trop déçus, je ne suis pas juste un vieil avare. J'espère bientôt pouvoir vous faire de telles offres dans le futur ! Bientôt vous trouverez dans la gamme Khadrin's Miniatures 3 régiments de troupes naines en cotte de mailles, coiffés de casques variés et protégés par leurs boucliers, ces guerriers robustes manieront haches, marteaux et lances ! Tous sculptés par le talentueux Shumin !

Une nouvelle campagne de commandes groupées pour Splintered Light Miniatures commence demain Samedi 24 Novembre jusqu'au 02 Décembre Minuit !